mreynolds04
Smartphones becoming primary device for physician and patient communications
Considered a security risk, mobile devices are now becoming a mainstay in clinical settings for communication, the difference being the software and cloud services being used to secure data. SIGNAL COMPLIANCE helps medical facilities boost all-carrier signal throughout complex building structure WITHOUT any CAPITAL INVESTMENT
Hospitals are making significant investments in smartphone and secure mobile platforms to enable communications between clinicians and between them and patients, according to a new survey.
Nine of 10 healthcare systems plan significant investments in smartphones and secure unified communications over the next 12 to 18 months, according to the results of the survey, performed in person by Spyglass Consulting Group; the survey included more than 100 healthcare professionals working in hospital environments.
Smartphones being provided to hospital workers for communications are a 50/50 mix of purpose-built devices for the healthcare industry and consumer models, such as the Apple iPhone or Android phones, according to Gregg Malkary, managing director of the Spyglass Consulting Group.
"The whole idea of patient-staff communications is a relatively new concept," Malkary said, referring to the 2012 requirements set down by the federal government's "meaningful use" of electronic healthcare records (EHR) standards. "So, when you look at these investments in smartphones and secure mobile communications, they really are driving clinical transformation as they try to address ... requirements.
Hardened mobile devices in use include smartphones such as the Zebra TC51 and the Honeywell Dolphin.
"They're hardened so if you drop them or it gets wet or has blood or feces on it, you can easily clean it. They also have integrated bar code scanner," Malkary said. "There's justification for using them, but they're pretty expensive."
"There are also many organizations buying Apple iPhones for care providers," Malkary continued. "It used to be that Apple's phone was considered an inadequate device."
Clinicians will often use both a hardened device and a consumer-grade smartphone to communicate with one another and patients. For example, purpose-built devices can be integrated with in-hospital patient call systems, so nurses are paged when a patient hits the call button, increasing responsiveness.
"If you're in a [hospital] ward, one of the biggest frustrations for patient satisfaction is nurses not responding to call buttons," Malkary said.
The survey found that 68% of hospitals are also using middleware to collect, monitor and manage data, alerts and alarms generated from hospital legacy systems, including nurse call, biomedical devices, pharmacy orders, laboratory results, and electronic healthcare records (EHR).
The survey found that 73% of hospitals had developed or were developing mobile strategies to address the communications, collaboration and computing requirements of clinical professionals and other mobile workers across medical departments, stand-alone hospitals and ambulatory environments.
The software and services available today are making consumer-grade devices more apt for clinical settings. For example, mobile device management (MDM) software can control who has access to clinical data.
MDM and mobile application management services are also most often deployed in the cloud, so while clinicians and patients can get access to sensitive medical information, that actual data is never saved to the mobile device but remains secure behind firewalls.
New consumer apps are also offering the kind of access once limited to healthcare systems via proprietary web portals.
For example, Apple's Health Record feature on iOS 11.3 enables patients to securely see their own EHRs and to enable access to them by clinicians.
Apple this week said in a blog post that more than 40 hospital systems are now using its Health Records application to enable access to patient EHRs; this is done through APIs to traditional EHR systems from vendors such as Cerner, EPIC and Allscripts.
Healthcare facilities are also rolling out bring-your-own-device (BYOD) strategies, encouraging doctors, nurses and other employees to use their own mobile devices to support their workflow, Malkary said. That trend is expected to grow over the next several years.
One reason for the uptick in healthcare mobile adoption is new standards put in place by the U.S. Centers for Medicare and Medicaid Services (CMS). CMS moved from a Medicaid and Medicare reimbursement model based on meaningful use of electronic healthcare records to a value-based care model that reimburses hospitals based on the level of quality, cost effectiveness and patient engagement.
With the transition toward patient-centered care models and value-based purchasing, hospitals surveyed stated they are evaluating next-generation communications platforms and upgrading their technical infrastructure to reducing healthcare costs, improving care quality and outcomes, and increasing patient and staff satisfaction.
The survey found that 48% of hospitals identified or were identifying compelling ROI models to justify mobile investments that provide quantifiable metrics to demonstrate cost reductions, outcome improvements and staff/patient satisfaction.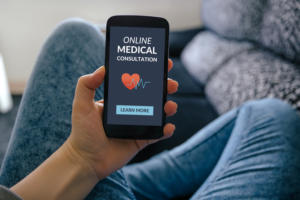 For example, in the past nurses were often forced to walk back and forth to physician offices to communicate with them, wasting valuable time — something Malkary referred to as "sneakerware."
"Even a pager was considered a luxury," Malkary said. "Smartphone's are more common now, and doctors like to communicate that way."
Secure Short Message Service (SMS) software, from vendors such as TigerConnect's TigerText and Imprivata CoreText, has also usurped proprietary VoIP messaging applications from large vendors, such as Cisco.
The hospitals surveyed also identified common communications challenges experienced by mobile clinical workers that include:
Communications overload. Clinicians are overwhelmed by the overhead paging system, incoming voice and text communications, and a continuous stream of device alarms, which is creating alarm fatigue and leaving them little time for direct patient care.

Lack of standardized processes. Clinicians are resistant to utilizing standardized communications processes and tools, especially during transitions, which can introduce medical errors into care process.

Dissatisfaction with existing communications tools. Clinicians are dissatisfied with the antiquated communication options provided by hospital IT, including overhead paging, landline phones, pagers and proprietary VoIP handsets. EHR-based messaging tools are poorly designed and not well-integrated with their workflow.
By Lucas Mearian Senior Reporter, Computerworld